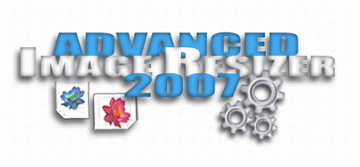 Advanced Image Resizer 2007 is the easiest to use user-friendly but yet feature-rich image resizing software solution available. This utility can work with the major image formats, including JPG, BMP, TIFF, GIF, PNG, PCX, TGA. It uses advanced resample filters to optimize color levels and to prevent any quality loss. Ideal to create Thumbnails or Preview Images, with or without watermarks.
With our user friendly interface, the application is extremely easy to handle. You can add whole folders containing your images to the processing list or just pick as many files as you wish. You can drag and drop images from your folders or even from the Internet Explorer into the AdvancedImageResizer2007 Image List.
Advanced Image Resizer 2007 processes as many images as you wish at once, just prepare your file list and hit the start button. Additionally You can customize several tasks that will be performed on each of your images and thus produce multiple output files at once (e.g. one task to make the image 50% smaller, another one to resize it to an exact width or height etc.).
You have full control over the properties of the created images. And - you can add WATERMARKS (e.g. your company logo) easily to your images.
With our Update Technology you will always stay up-to-date with our latest available version of Advanced Image Resizer 2007 . Without any additional charges!
Features:
Supports almost any image file format
Converts multiple files at once
Capable of performing multiple custom tasks on all files simultaneously
Advanced Resampling Filter Technology
Custom Watermark drawing
Very fast image processing
Automated Web Update included
User friendly and Multi-Lingual Interface
Comes with Quick Start Help Documentation
Runs on all Windows Systems
Supported File Formats
BMP - Windows bitmaps
ICO - Windows icons
WMF - Windows metafiles
EMF - Windows enhanced meta files
JFIF - JFIF images
JPG - JPG images
JPE - JPE images
JPEG - JPEG images
MSK - Windows bitmaps
RLE - Run length encoded Windows bitmaps
DIB - Device independant Windows bitmaps
TGA - Truevision images
VST - Truevision images
VDA - Truevision images
WIN - Truevision images
ICB - Truevision images
TIF - PC TIF images
TIFF - Macintosh TIFF images
FAX - GFI fax images
EPS - Encapsulated Postscript images
PCX - ZSoft Paintbrush images
PCC - ZSoft Paintbrush images
SCR - Word 5.x screen capture images
RPF - Alias/Wavefront images
RLA - Alias/Wavefront images
SGI - SGI true color images
RGBA - SGI true color images with alpha
RGB - SGI true color images
BW - SGI black/white images
PSD - Photoshop images
PDD - Photoshop images
PPM - Portable pixel map images
PGM - Portable gray map images
PBM - Portable bitmap images
CEL - Autodesk images
PIC - Autodesk images
PCD - Kodak Photo-CD images
GIF - CompuServe images
CUT - Dr. Halo images
PSP - Paintshop Pro images
PFR - Paintshop Pro frames
TUB - Paintshop Pro tubes
PNG - Portable network graphic images
GED - Arts & Letters thumbnail images